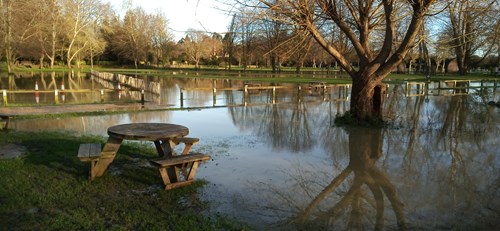 Flooding
Parish Council
Added at 12:30 on 08 January 2021
In view of the extreme risk of flooding recently the Parish Council is working with other involved organisations to identify any remedial/preventive measures that need to be taken and aims to provide a guide for parishioners covering flood prevention and actions to be taken in the event of a future flood event.
It has been decided that a separate working group, supported by the Parish Council, would provide the necessary focus for this important work.
Flood Prevention Working Group

Are you interested in becoming involved with a Flood Prevention Working Group?

After the heavy rain and potential for river flooding over the Christmas period, the Parish Council is supporting the creation of a community group to help with future flood risk.

This would be a Parish initiative to help work on education, preparation and local information working with key statutory agencies such as the Environment Agency, The Council and Water Companies.

We will be arranging an initial meeting and if you would like to attend please email d.keanehwpc@gmail.com with the Subject line - "YES - Flood Prevention Working Group Meeting". We will then notify you once the date and joining details are confirmed.
In the meantime there are links to useful information under Flooding on the Emergency Contacts Page. Click Emergency Contacts to view